Robb Report Worth: Estates of Grace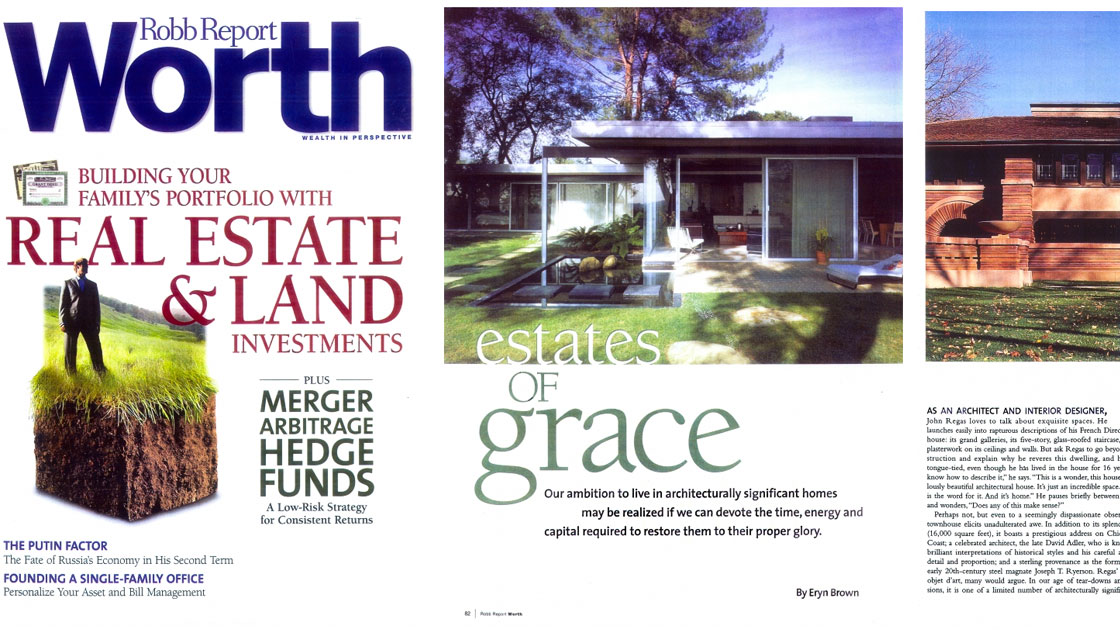 by Eryn Brown
As an architect and interior designer, John Regas loves to talk about exquisite spaces. He launches easily into rapturous descriptions of his French Directoire townhouse: its grand galleries, its five-story, glass-roofed staircase, the ornate plasterwork on its ceilings and walls. But ask Regas to go beyond the construction and explain why he reveres this dwelling, and he becomes tongue-tied, even though he has lived in the house for 16 years. "I don't know how to describe it," he says. "This is a wonder, this house. It's a fabulously beautiful architectural house. It's just an incredible space. Impeccable is the word for it. And it's home." He pauses briefly between superlatives and wonders, "Does any of this make sense"….
….Even with modern homes, the architecturally correct decision may be the one that provides the least comfort. Crosby Doe says the firm's newest listing, a $6 million Neutra in Bel Air, offers sweeping views of Los Angeles and massive glass walls that slide open to reveal the lush hills surrounding it. But the house also has excruciatingly tiny bedrooms and built-in plywood furniture details any true Neutra devotee would be loath to change. Doe is hoping to find a buyer who appreciates the Neutra touches as they do, perhaps, like LaFetra, who has been immersed in renovating a Schindler home for nearly two years…..