The case for identifying and preserving houses with true architectural merit.
by Nicholas Olsberg
"Frank Lloyd Wright designed our house," announce the parents of the teenage characters in the 1959 Sandra Dee film, A Summer Place. After establishing their home's pedigree, these same parents walk visitors from the entry of Wright's Della Walker house in Carmel into an interior set completely re-conceived by a Hollywood studio designer and based on vaguely Wrightian lines.
Pride in the architect of one's home is of longstanding. So is the flagrant abuse of the names and cachet of such star-chitects. Here's one such example. I am looking at the photos of a pleasant but decidedly ordinary suburban house in Connecticut. It is stucco, with pitched roofs and standard metal windows, built about 1970. It is typical if perhaps a bit out of date for its time. However, because of its apparent sympathy with the landscape, it is proudly presented as "something out of the world of renowned architect Frank Lloyd Wright." No designer is credited, and certainly no one in Wright's circle of students and associates would be happy to claim it. Yet, there is such a growing fashion for owning houses associated with a famous name in architecture that even a home bearing no relation whatsoever to a great designer can be given his "label." Similarly, other dwellings of no originality and with no iconic name to attach also receive a notable status bump when savvy realtors decree a home to be "architectural."
It is vital to keep respect for housing designs of genuine architectural merit alive. Likewise, It is important to establish a market premium for any property that holds such merit. We can sustain the heightened cultural and financial value of architecturally significant houses by encouraging owners to respect as much of the original design as can fit comfortably with their way of life. With all this in mind, it is becoming startlingly evident that we must establish some criteria for recognizing works of lasting architectural value when they appear on the residential market, and to find ways to distinguish design quality and importance from the superficial appearance of a market-friendly style.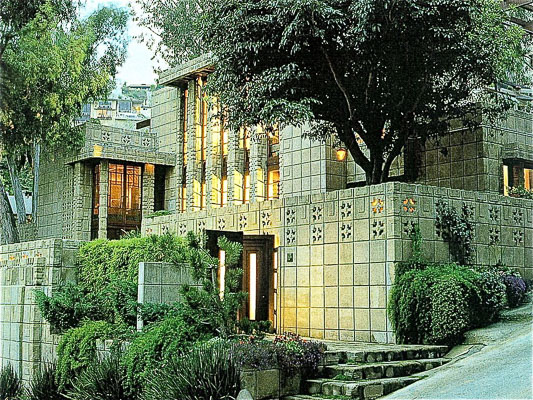 There is little issue with what we think of as the historic fabric of our culture: Dwellings that have come down to us from the mid-nineteenth century and before, when even works that were commonplace in their day are now part of a historic townscape or district. Such houses and buildings echo lives vital to communal memory, and carry cultural value that stands apart from their merit as design. But in the last 150 years of rapid urbanization, especially from the 1920s onward, and in particular in the period of vast housing expansion of the last 75 years, we must identify what stands out for special attention. What earns architectural merit for innovation in its time? By expressing an original idea? For rendering a prevailing aesthetic with extraordinary constructive finesse or design sensibility.
What qualifies as a work of architecture? And what rough tests can we apply to gauge that quality?
First, we must ask ourselves a core questions. Who was the maker? There are occasional compelling works of unknown authorship. But almost invariably, if we are to add market value to a house, we first need a confident attribution to a recognized architect or designer. Was their work published and exhibited in their day? If so, how widely? Have their drawings or models entered museums or archives? What honors or recognition did these architects received during their lifetime? Were they teachers of marked influence, or accomplished associates and students of major masters? Did they publish statements about their ideas, approach and thinking? Are there monographs on the designer's work?
Second, what is the work? Whether a standalone or part of a designed development, does that work respond to its setting and needs with originality of plan and imagination? Or is it simply following a developer's template, like many superficially charming but spatially banal examples of the 1950s ranch or 1920s Spanish Revival houses? Was the design published in process and did the work appear in publications on completion? Has it since entered the architectural literature? At what phase in the author's work did it appear? Was it a fully researched and inventive project, like Arthur Erickson's early complex at Point Grey, or simply a better-than-average set of townhouses or apartment block produced late in a designer's career to sustain his or her practice? Recognition—or the lack of it—in the architectural press is a good test of this criterion.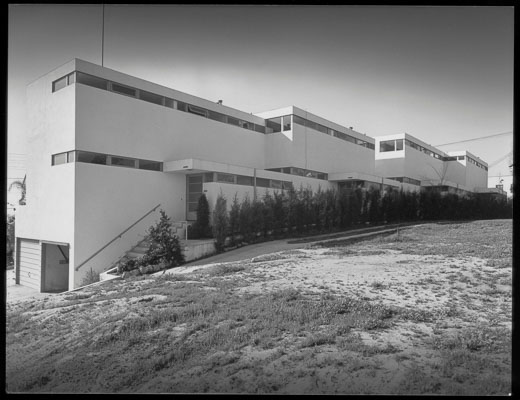 Third, we must note the condition and context. How many changes to the building have been put into place since the original construction? Were these amendments done with the architect's participation? Can changes made without the architect be reversed? Are the materials and structure degraded? Can they be readily and faithfully replaced? Has the site changed character so that the vistas and original approaches no longer apply?
Having applied these tests, we must still consider quality. One should not be deceived by cost and scale. Even the finest architects—Frank Lloyd Wright, among them—can stumble in the face of clients with grandiose ideas and grandiose budgets to go with them. Often an architect's finest work was done under the constraints of a more humble program. In Wright's case, I think of the Storer House in Hollywood. It was conceived as a suburban model for middle-income professional households, or of such ready-made affordable works as his tiny Usonian block house for the Tracys in Seattle, which does so much with a modest budget to provide enjoyment of space, light, material, vista and the transitions from private to common space.
Indeed, beyond recognizing works produced to satisfy the rare good taste of a tiny privileged group able to engage an architect for bespoke dwellings, we should identify and set a high value on work in which a designer's aesthetic imagination has been applied to "designs for living." We should especially value an architect's ability to create works that meet everyday circumstances, ones that fit the broader needs of society at large. Such examples of affordable masterworks of community living abound, especially as we look back some 60 or 70 years to the compact experiments in "carefree living" and "open worlds." Cliff May's Lakewood, Quincy Jones' Eichler Homes, or Gregory Ain's Mar Vista in California all come to mind. Also, there's the efficient dwelling systems and compact park-planned approach to open space that marked the great work of Jean Prouvé at Meudon, Stirling and Gowan at Ham Common, Arthur Erickson at Point Grey in Vancouver, or Jørn Utzon and Arne Jacobson in Denmark. Many are particularly sensitive to patterns of grouping that negotiate, as only an inventive architectural mind could, between strengthening the sense of community and preserving the privacy of each household within them, and between originality and the echoes of belonging in their context.
In the case of southern California, many of those experiments failed for a long time. However, the delight they could bring to living is slowly being appreciated and embraced. I am not talking about the mid-century home acquired for fashion that has infected Palm Springs like a disease (although that cult has played a wonderful role in ensuring the preservation of some good ones along with the run-of-the-mill). Instead, I am talking about the fact that May's Lakewood ranches and Ain's Mar Vista 'Moderniques' now rightly sell at a decided architectural premium; that a genuine trophy house like Storer—quite modest in its day—can be valued at as much as 200% per square foot above the prevailing comparables. What's more, here in England, even postwar social housing projects of genuine architectural ambition and social quality have now captured the imagination of city dwellers far more prosperous than the clientele they were originally designed to serve, although their value also depends on where they are located and on the pattern of privatization.
I live in a recent example of middle range housing in which architectural quality of high order and social value combine. It is an infill cluster of six new houses, similar in terms of gross enclosed square footage per unit to the mid-range of conventional middle-income housing developments adjoining it. However, the architect, the highly influential Tony Fretton, has fit them more tightly together, in a courtyard system on a much smaller, more economical and environmentally sound general footprint. Windows, doors and fittings are standard. But, unlike their neighbors, they are arranged under higher ceilings and with unusual attention to light, flow, and the balance between open and enclosed. While the project is by the acclaimed Fretton, it was not his name—unknown to any of the other buyers when they purchased—that established the 20-percent value above market that they were happy to pay. Instead, my neighbors were delighted to have equivalent space on less land for more money simply to live in a house that feels lighter, freer, and better to live in, more satisfying to look at when you enter and approach, and much more conducive to a sense of a life shared with your neighbors. The premium was for great design on everyday terms by an architect of real imagination, and in some ways he has most succeeded by effacing himself. No-one bought the designer's name, or the idea of living in an 'architectural' dwelling. They simply fell for the quality of life that good architecture could afford them. That is worth paying for.